Fab News! A 2017 Pew Fellowship for Poetry Goes To...
M. Nzadi Keita!
UPCOMING EVENTS:
April 17, Free Library of Philadelphia, Wynnefield Branch, 6 p.m.

April 6, Keynote Speaker, Philadelphia Stories Lit Life Poetry Festival



RECENT HIGHLIGHTS: Interviewing My Mentor: A Tribute to Sonia Sanchez
Moonstone Arts Center, Philadelphia PA
PAST READINGS & HIGHLIGHTS:
Independence Seaport Museum, Philadelphia
Frederick Douglass Bicentennial Readings:
-Yale University
-New Bedford, MA Historical Society
Scribe Video Center Street Movies, Germantown
David Driskell Gallery, U. of Maryland
Colored Girls' Museum, Philadelphia
Writers' Center, Bethesda, MD
Reginald Lewis African-American Museum, Baltimore, MD
Anacostia Community Museum, Washington, DC
News Archive
June 2015: A copy of Brief Evidence of Heaven appears in the annual Poetry Showcase in New York City at Poets' House, a display of over 3,000 independent press poetry collections published in 2014.
May 2015: Brief Evidence of Heaven: Poems from the life of Anna Murray Douglass is one of three finalists for the Phillis Wheatley Award from Quarterly Black Review of Books!
March 2015: At a reception hosted by the Frederick Douglass Family Initiatives, an organization devoted to public education and activism against human trafficking, Nzadi reads from Brief Evidence of Heaven and meets two Douglass descendants, FDFI founder/chairwoman Nettie Washington Douglass, and president Kenneth Morris.
Dec. 2014: The poem, "Fourth" from the "Spirit Letters" series in Brief Evidence of Heaven, appears in The Moonstone Anthology: Featured Poets (Moonstone Arts Center Press).
Nov. 2014: An elegy, "What Is Left" airs Nov. 17 -30, 2014 on The Feminist Wire Online Forum honoring Toni Cade Bambara. The poem first appeared in Beyond the Frontier: African-American Poetry in the 21st Century (Black Classics Press).
Meeting Dr. Deborah Willis with Dr. Damaris Hill
Hanging out with Theodore Harris, collagist/cover artist for Brief Evidence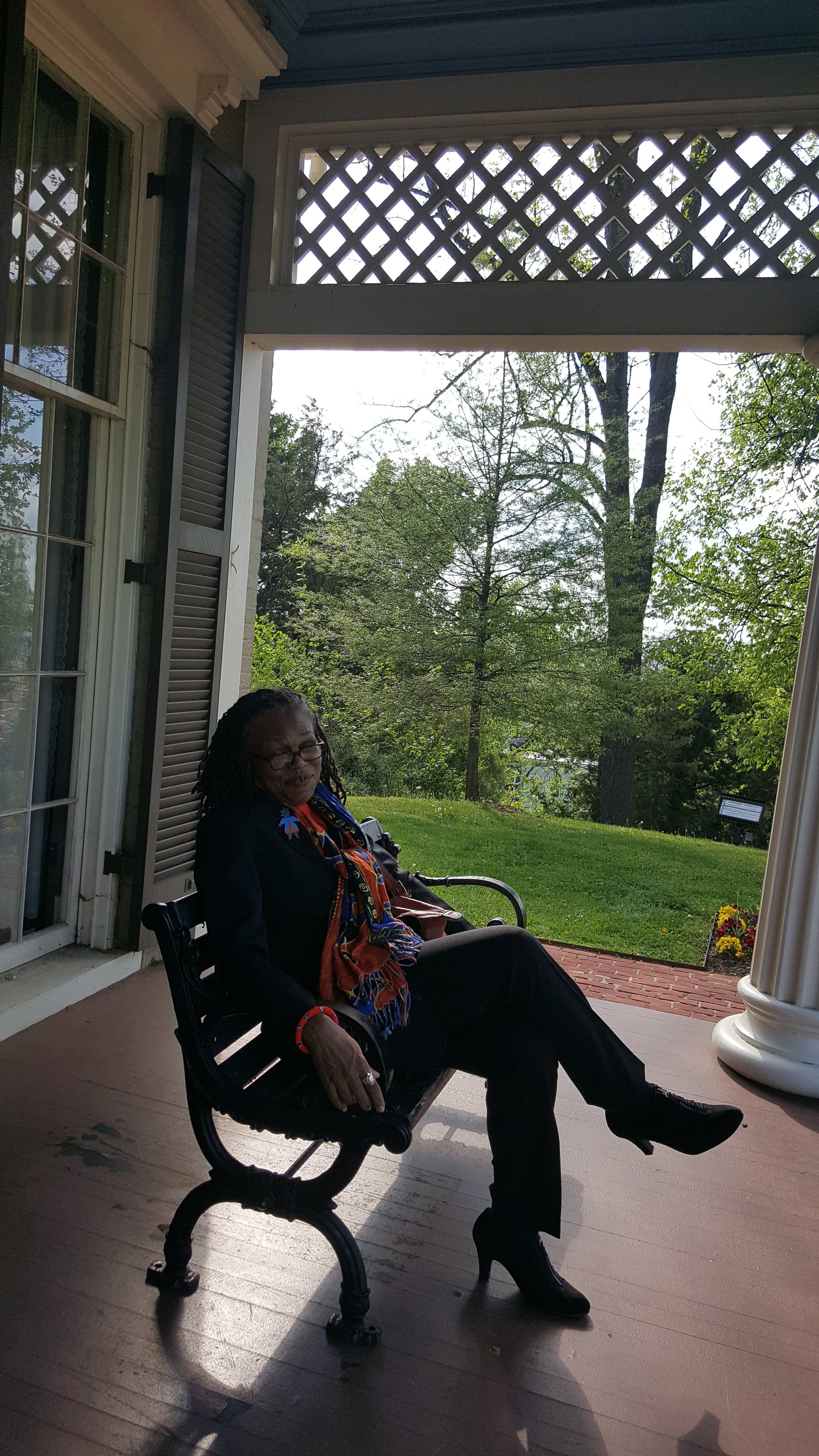 Did Anna Sit Here?At Cedar Hill in D .C, the last home of the Douglasses.
New Work News:
227: ["Ask the Lonely"], a poem from Driving, my new mss., is a finalist for the Palette Poetry SPOTLIGHT Award!